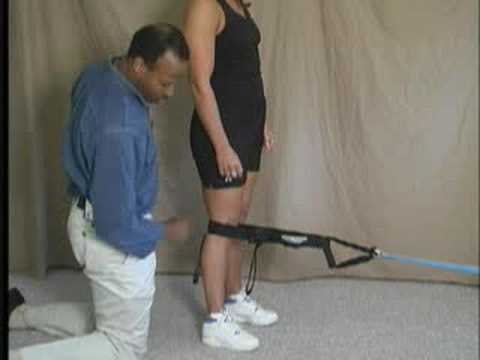 Things are getting interesting in therapy...
When I walked in, Kendra and Cara (Kendra's intern) were at the door to meet me. I knew something was up right then because normally only 1 comes to get me.
Kendra had given Cara more responsibility, so she had to "assess" my condition. This meant watching how I walked in, asking the questions on what was going on (and re-asking as she wants to figure out the source of my discomfort), and then measuring.
They discovered that my bad leg has flattened out to where I'm right at zero degrees. That's good. In fact, to compare against the good knee, apparently I now have more flexibility in the bad leg. (See, I told you I was working hard!)
This allowed me to lose 2 of my exercises: Bridges and Heal Slides! Bridging is actually easy - anyone can do it. You lie on the couch for 10 minutes with your leg propped up on the arm and keep it straight.
But heal slides were terrible... very painful. They were good in that I was able to learn how to bend my knee back. Thank goodness those are finished!
Then they decided to give me more difficult exercises. You see, I thought, "Great... losing 2!" I didn't know I'd gain 2.
One was to lift my body using my hips but to only use one leg while the other one sticks straight out. Holy crapamole that was difficult! And, of course, I was pouring sweat after doing 30 with each leg.
On top of my other exercises, I also had to learn one called Standing Knee Extensions. The photo doesn't really do it justice, but I couldn't find exactly what it was doing.
They attach a long rubber band (thick - it actually was like a balloon) around the ankle of your good leg. Then, you balance on the bad one. The exercises is to face twelve o'clock and extend your good leg forward so it's tensed from behind. You do 30 of those and you're not supposed to drop the attached foot.
Then you turn to your three o'clock. This time the tension is coming from your side while you're balancing. After 30 you turn to the six o'clock and now your pulling from the wall while facing it. Finally, you turn to nine o'clock and pull from the side.
It's freakishly crazy! Why would you work the good leg? Because you're focusing on working the muscles from your butt to your hip to your quads to your calves... all while balancing on that bad leg.
When I was finished I told Cara my whole side was just one big painful mass. Of course, whenever you say something like that they go into a defense mode to figure out if it's a good pain or a bad pain.
So as I was heading to the bike, Kendra goes, "Would you like to try the Elliptical machine?"
Elliptical means "comfort running" in my book. "Of course I would!" I told her.
For those that remember, prior to the surgery, Kendra had me get on the elliptical. Well, it didn't go well. It was painful, I felt like I was locked up, and the more I rode the more it hurt. It was just one big hot mess....
This time: My first 2 minutes were very awkward. There was some pain, but I had a hard time pinpointing where it was or what it was to Cara. She said to shoot for 5 minutes. After about 3 minutes she came back over to check on me and I said it seemed to be getting better.
At 5, since she hadn't come to check on me, I decided to push to 6 minutes. I wasn't feeling the pain like I had earlier. Once I got to 6, she showed up and I told her I was stopping at 7.
Speaking of "hot mess," that's exactly what I looked like. I was pouring sweat - but I felt great! I finally got to do something that was important to my marathon training... and I had done it without feeling locked up.
Now we know why I felt that before - the dang suture was tying me down. Not to mention a kneecap that was riding "sidesaddle" and all of that scar tissue.
Kendra wanted to know how it went. I said, "I would compare it to the first time I was on the bike. It was awkward and tough because I had to learn how to make that rotation and trust my knee. But I think the more I did it, the better I felt."
Both of them were pleased and Kendra wants me to try to go to my gym over the weekend. The goal, like the bike, is to get to 30 minutes without resistance/tension. So I'm going to try for 10 and then make my way up the time frame.
One more thing... I noticed today how much muscle I've lost in the year and a half since I broke the knee. One of the exercises I do, I have to stand facing a mirror. Well, I have always had big calves. I've had them because of all of my years playing soccer.
Today I noticed that my left calf is about 2/3 the size of my right. It's amazing... which, I guess, it's also a measuring stick.
So my events today showed me that my "training" is all about making strides. Getting better at each exercise shows that I can lose some... gain others... and hopefully, life will return to normal.
Oh yeah: If you didn't know this already, today's date is 90210. I just think that's funny.